FAQs - Frequently Asked Questions
What areas do you service?
Our primary service area for installation is within a 40 mile radius of Houlton - basically the Southern Aroostook County area. We do build and deliver to a much broader area, depending upon the job.
Most of our customers tell us that they are pleasantly surprised at how affordable our custom cabinets are. We use superior materials that will last longer: the finest woods, along with the best drawer slides and hinges. We not only build them to the precise sizes needed to fit your home, we install them to give you the perfect finished look you're after.
Yes, we do Laminate counters in house with various edges, and also subcontract the high end counters such as granite, quartz, and solid surface. The fabricator will come to your home after cabinets are installed and template the counter. They usually return within two weeks to Install.
Can we purchase cabinets uninstalled?
Yes.
Do you do other cabinets?
Certainly. We do all types of cabinet and counter projects. We've created retail fixtures, such as the Village Candle cabinets in the photo on the right. We've also done interiors for hospitals, banks and schools. Email or phone with information about what you have in mind. Chances are, we can help.
I've started doing my kitchen myself, and now realize I can't finish this project. Can you help?
Obviously, we prefer to work with you from the beginning to design and construct a project that you'll be proud of. However, we've helped many customers who've ordered cabinets from "big box stores" only to discover that the types or sizes they need are back ordered week after week. Give us a call. We'll do our best to help.
Questions?
If you've looked our site over and have any questions about what we offer, please call us at (207) 532-9615 or email us at info@carpenterscustomcabinets.com.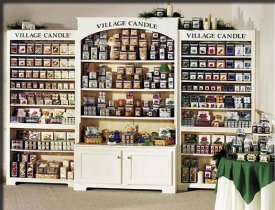 Click the above photo for a detailed version.
Our Cabinets are proudly Made In Maine - to A Higher Standard.